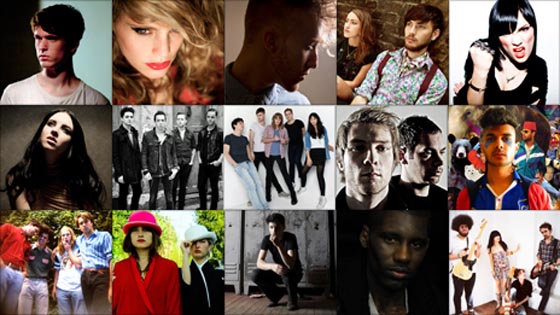 The BBC have just published their sound of 2011 long list some thoughts as I listen.
I'm impressed by
Esben and the Witch
 as their name implies they sound like a dark fairytale. If their album keeps up this level of quality I can see it being on heavy rotation.
I'm a sucker for anything with a Dub Step flavour so I enjoyed 
Jamie Woon
 though his voice is a little commercial for my tastes, in the D&B/Dubstep category
Nero
 excites me the most. It would be great to see an artist other than Pendulum getting some viscous breaks in the charts.
Daley
is clearly a big talent, not the kind of thing I spend a lot of time listening to, but the world needs an alternative to Jamie T who can sing in tune. 
The Naked and Famous
are perhaps a little too indebted to MGMT on the evidence of what I've heard, but there's always a place in my heart for sunny pop music. 
No clips on the BBC site but The Vaccines sound like a strange hybrid of Mumford and Sons and Interpol topped off with the fantastic baritone of Justin Young. I found a clip of them playing on Jools Holland you can check out. I'll eat my hat if these guys don't make it (Which naturally means they are doomed)
Warpaint
 are capable of dreamy loveliness, but Undertow sounds a little too much like a rewrite of Polly by Nirvana to my ears.
While Clare Maguire and Jessie J may well end up being huge they do nothing for me. 
I think
Anna Calvi
 has the potential to produce a world class album. Jezebel is a curiosity, but  
Moulinette
 is a wonderful track.
I'm not going to make any predictions of who will be the true breakthrough, but even the beeb picked Little Boots over Lady Gaga.